Because of the health situation worldwide right now, many people became freelancers or made their business operations remote.
Not all people's homes are ready to accommodate this change, especially those who don't have their own offices or study spaces. One of the best solutions that people are coming up with is transforming their garden sheds into makeshift home offices.
With this approach, you can get more space with fewer expenses and headaches to deal with. 
Transforming your garden shed into an office space needs a lot of planning, time, and effort. After the initial planning stage, you need to prepare the shed by insulating and priming the area with essential furnishings and utilities. After these steps, it's up to you if you want to decorate your space. 
Having a comfortable and fully-furnished office is known to improve productivity and collaboration at work. That's the reason why companies and businesses are spending operating expenses every month to keep their employees safe and comfortable. But because of the global situation, employees cannot always go to their offices and do their work. 
Hence, people started working remotely using their computers and internet connection. But not all people have the capacity and space to create their home offices. And truth be told, even if financial funds are not the problem, construction of a new structure creates inconvenience and endless frustrating distractions.  
As people and businesses deal with the "new normal," another new trend is starting to rise: garden shed offices.
After all, why would you need to construct a new building if you have a perfectly working one in your backyard, right? In this article, we will learn more about office shed transformation and how much should we expect to pay for this project.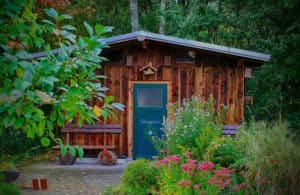 Benefits Of Using An Office Garden Shed
Did you know that the interest in backyard sheds had increased in the past few months? Some people started to see backyard sheds as potential office alternatives. Here are some of the reasons why more and more remote workers transform their garden sheds into a full-fledged work office. 
1. Additional Space For Cheap
Compared to the cost of building a new structure, using backyard sheds for office is very budget-friendly.
Data from Home Advisor states that the average entry-level price of building a shed is around $10,500, while traditional structure building can cost $21,000 at the very least. If you already have a shed, you can expect even lower prices, since you don't have to buy new ones. 
2. Avoid Building Permit Hassle
You don't need a building permit before you can start making modifications to a shed. This is especially true if you're building a small shed (maximum of 8×10). The only time that sheds require a permit is when you're building a massive one, which can affect other people's property or public spaces. 
3. Focus On Productivity
Separating work time and break time is relatively more challenging when you're working at home. No one will yell at you to stop scrolling in your social media or do other things. An office space separated from your house's comforts will help you focus on productivity and things you need to make. 
4. Fast Construction, Less Hassle 
Another benefit of repurposing garden sheds is the immediate availability of the space. You can use the structure as soon as you made the necessary adjustments, such as insulation and electricity. Most of these utilities are already installed and working. Less construction means you can get back to work as soon as possible. 
5. Enjoy Nature While Working
And last but not least, working in a backyard garden shed can be quite relaxing.
Keep your stress at low levels and enjoy your cup of coffee with the sight of the outdoors. Be inspired and get creative with your ideas. This experience is especially true if you're using natural light and open air. This also means that you're likely to save electricity and energy. 
Repurposing a backyard shed needs a lot of work. Before making any construction or remodeling, you must look for every nook and cranny to see any significant holes and water damages to the property. Also, you need to find extra space to move all the items currently stored in the shed space. 
After the initial preparation, you need to add your furniture and work-related objects with the right storage facilities (such as cabinets and drawers). It's up to you if you want to add decoration or hop back to work as soon as possible. Here are the specific steps on how you turn your garden shed into an office.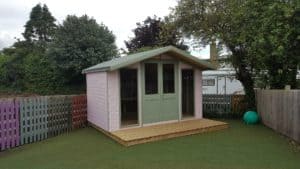 10 Easy Steps To Turn Your Shed Into A Productive Office
1. Do The Initial Planning
Start your remodeling project by making your initial plan. Building blindly and without a plan can be expensive when things don't work out. It's as simple as getting a notebook and a pen, sketching your office interior design, and checking what materials are needed for this rebuilding project. 

Once you decided what materials are needed for the build, it's time to check for the prices online. Local shops might offer more generous deals, so don't forget to check them out. Count all the expenses and add more funds to your budget (if you're doing this with a hired hand). 
2. Prep The Shed (And Surroundings)
It's time to prepare the shed for the transformation. Examine all the corners and sides for any holes and damages from wear and tear. This will get in the way when insulating an uninsulated space. Repair the cracks by using caulk, wood materials, or other methods, depending on your options. 
Remove the items currently stored inside your shed and put them in other available locations. This might take a little while, especially if you have limited working space. Once the shed space is all cleared out and cleaned properly, you can take a look at the overall space available inside your shed. 
3. Make Your Interior Outline
For smaller sheds, this part is a no-brainer. That's because the space of a small shed is often enough for basic office stuff such as small drawers, a computer table, a small coffee table, and an extra bookcase. These materials would often take the entirety of your available space. 
But if you have a large shed, a proper interior layout design is necessary. You can fit all your office essentials and add other amenities for your room. For example, you can add a small refrigerator or a drawer for clean clothes if you need to change.
Don't forget to add a container with all the cleaning supplies (you never know when an accidental coffee spill might happen).
Once all of these are drawn out in a plan, decision making would be a lot easier and hassle-free. 
4. Install Useful Utilities Like Electricity
This option is skippable if you already have electricity in your backyard shed. Not all people would have this installed, but it's a must if you're using specific devices. If you're not using wireless internet, you also need to reroute your cables (contact your service provider for this situation). 
It's up to you if you want to extend the water pipes to your backyard shed office. With this option, you will have an easier time getting water in the long run. But it will surely cost more money for the installation. 
5. Insulate Your Shed
Insulating a shed is another story and is another topic for a home improvement guide. This step is necessary, as it can prevent your device from weathering damages. Most insulation materials only need a staple gun for installation. Some insulation materials might need specialized equipment. Install your insulation material to your shed based on the manufacturer's instructions. 
The gist of this step is to insulate your shed properly to retain the stable temperature inside your office. Insulate the ceiling and walls completely to reflect the temperature effect outside. Contact a professional for more help in insulating your shed if you are not sure about this step. 
6. Use Drywall 
Before you can decorate your walls, you must first install drywall on top of the insulation material.
Use drywall that is appropriate to the size of your space. When installing a drywall sheet over a door or a window, let the edges overlap and cut the excess material. This way, the drywall will be fitted perfectly or with minimum gaps. To fill in the gaps, apply a drywall mud compound. And that's it; you're ready to go crazy with decorations. 
7. Finish Your Walls And Floor
It's up to you if you want to decorate your walls and floors. You can use wallpapers and carpets to make a more comfortable vibe or paint your interior with a light color for minimal design. If you're really out of time or resources to beautify the room, a tape on top of the drywall compound should be enough.
For blueboard drywalls, you can check out veneers to finish your walls. 
8. Get Your Necessary Furniture
Place your computer or office table near the space where the electrical outlet is installed.
If you don't want this approach, you can use a power extension cord instead and put your furniture in a more comfortable spot. Make sure to get help from a friend or family if you're going to move heavy furniture or equipment. 
9. Decorate 
And last but not least, it's time to decorate. This step is optional and can be skipped entirely.
But if you're working in your office throughout the majority of the day, it's good to have inspiring aesthetic elements in the room. You can just get a houseplant and call it a decoration, or put posters and items that keep you inspired and creative. It's all up to you, so enjoy decorating your backyard shed office. 
10. Other Additions
There might be other things that you like to install, which requires special installation.
For example, you might want to install an additional sound system or acoustic insulation to reduce outside noise. You might also want to install an air conditioning system. All the items in this category will likely require other guides. In this case, it's best to check the manufacturer's manual for the best result.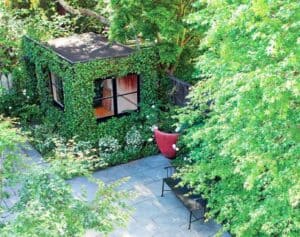 How Much Does It Cost To Convert A Garden Shed Into An Office?
According to Home Advisor, a single office room can cost up to $46,165.
Furthermore, the price range of adding a new building to the house is between $20,715 to $71,615. It really depends on the kind of renovation and construction needed to be done. $50,000 is big money, and constructing a new room might not be practical, especially in hard times like now. 
In another option, building a detached addition like a shed-like room would cost $15,000 without any utilities. If you already have the structure, the cost of remodeling would usually reach $2,000 maximum. Prices can vary from one area to another. For more specific prices, you can check this chart. A DIY custom office of about 11 sq mt only needed $3,500 in material cost. 
If you have spare materials and experience in house renovation, the cost of repurposing this shed can even be free. The prices depend on a lot of factors, but you safely say that repurposing a  garden shed for the home office is cost-effective.