Wood sheds are additional structures built in gardens and backyards to help in storing tools and other things.
Although wood is a very resilient material, it can be affected by general wear and tear. Before you can use these structures for storing, you need to add layers of protection. In fact, the best time to treat your woodshed is when it's new. Here are the best options for treating a new woodshed. 
Treating wood is necessary to prolong the life of wooden structures, such as garden sheds. Most decorators recommend solvent-based wood preservers to treat garden sheds and other exterior wooden parts for efficiency and aesthetic effect on the wood. However, more and more people are changing to water-based wood preservers due to their eco-friendly materials. 
Do you need quick storage space for various tools or objects?
Or do you need a new office space for your remote work and activities? Perhaps, you and your friends want to have your mancaves or she-sheds. Whatever the reasons, your newly sanded wooden shed is finally here.
Before you can use and decorate your new structure, you need to get to work and treat the wood.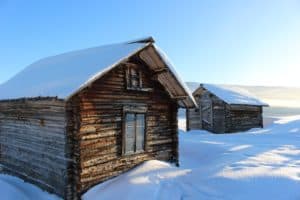 Why Treat The Wood Of Your New Garden Shed? 
Wood preservation has been present in carpentry since the time humans started building wooden structures. In fact, evidence of wood preservation has been seen way back when Alexander the Great has ruled Ancient Egypt. 
By soaking wood with olive oil, ancient carpenters were able to prolong its useful life. However, back in the day, only important wooden structures (like bridges and decks) are treated. Although tedious, treating wood gives a lot of benefits.
Adds New Layer Of Protection
Wooden structures are still vulnerable to natural damage, albeit with their sturdiness and reliability. It is still an organic material, which can accumulate mold, rot, decay, fungi growth, and more.
By treating the wood, you minimize the chances of these natural elements from happening. 
Prolongs The Life Of The Material
Since the shed will be exposed to different weather conditions, it would be vulnerable to damage. Moist and UV rays can weaken the material and can cause splits and cracks. When the wood is treated, the effects of the weather are also minimized or prevented. 
Keeps Your Stored Items Safe
Storing gardening tools and equipment in a space with untreated wood is a bad idea. Mainly because untreated wood tends to accumulate damages that grow over time.
If these damages made the wood fragile or damaged beyond repair, it would fail to keep your items safe inside the storage.
Contrary to popular belief, treating your wood as soon as you receive it from your wood supplier is recommended. This method helps preserve the wood at its best state possible.
However, treatment is not needed if the wooden components arrived pre-treated or is made with cedar or pressure-treated timber. 
What About Varnish? 
Varnish is a popular option for people who wants to add a layer of protection. Although it effectively makes the wood waterproof, it cannot be used alone to preserve the wood. That's because it is a topcoat and does not go deep into the wood's surface and fill up spaces. 
All the pores, dents, and uneven surfaces need to be filled to preserve the wood entirely. This step helps in avoiding moisture buildup, which causes cracks or organic growth. 
Like varnish, other topcoats lie paint, wax, or wood oil cannot fully protect the wood. Moisture can still form, which can lead to the gradual destruction of the wood. 
Should I Use Topcoat?
Topcoats are layers of materials used after the initial wood preserver was applied. These are usually used for decoration and waterproofing. If you want to add aesthetic elements and additional protection, you can add your preferred topcoats after the initial coating of the wood treatment. 
Using a preserver without a topcoat is fine. But using a topcoat without a preserver is not recommended. Take note: if you're planning to add a topcoat, avoid using preservers that have wax. The wax makes the surface slippery, which causes any topcoat to slip away or be applied incorrectly. 
What Kind Of Wood Preservers Are There? 
As of now, there are two types of wood preservers in the market:
Solvent-Based

– can be easily absorbed by the wood's surface, generally great for any kind of wood, especially exteriors. 

Water-Based

– also known as water-borne preservatives, these products dry quickly and doesn't produce harmful odor or fumes. It is also not flammable, unlike most solvent-based preservatives.
How To Prep Up For Wood Treatment? 
You don't need to do a lot of things to prep the wood for treatment.
This is especially true if the wood is newly sanded and fresh from the workshop. In most cases, simple cleanup is all that is needed before applying the wood preserver (follow the manufacturer's instructions). But if you're planning to treat a wood that is currently used, you need to prepare it for initial coating. 
Remove Any Particles (Dust, Dirt, etc.) From Wood
To make sure that the preserver can fill all the wood gaps, you need to clean any dust or dirt from the surface. The best way to do this is to wipe the wood with damp microfiber and then drying ut with a dry one.
Vacuum or air compressors are also good alternatives. 
Remove Any Organic Growth In The Wood
The next step is pretty straightforward: clean the wood's surface with a fungicidal wash. Remove any algae, lichen, moss, or any organic things stuck in your wood.
Fungicidal wash can help in preventing any organic growth. Make sure that all the parts of these organic growths get removed to avoid further development. 
Strip Topcoats (Varnish, Paint, Stains, etc.) 
Wood preservers are considered undercoats and serve as a primer for other materials (like topcoats). All the undercoat layers need to be stripped away to renew wood treatment.
You can use sandpaper to remove the topcoats with minimal damages to the wood itself. 
Make Sure That The Surface Is Dry Before Applying Wood Preservers
Do not apply your wood preserver unless the wood is dry and no moisture is left. Moisture is the number one cause of wood breakage and cracks. Make sure that you dry it under the sun or use a dry cloth to remove the excess moisture. 
5 Best Wood Preservers For Your New Shed
1. Best For Sheds: Ronseal Total Wood Preservative
Garden sheds need good surface protection because it is exposed to natural elements, weather, and other things that can damage exterior parts.
That's why the best kind of wood preserver for this kind of situation is a solvent-based product. Wooden materials absorb solvent-based preservers easily, making them more effective and last longer. 
One of the best shed and fence preservers right now is the Ronseal Total Wood Preservative.
It shields and protects the surface of the wood from insect attacks, weathering effects, and rot. It also has waterproof capabilities, making it one of the best wood preservatives on the market. 
2. Best For All-In-One: Cuprinol Ducksback (5 Year) 
Treating wood is regular maintenance that needs to be applied each year (or every two years) to retain the shed's protection. For shed owners that want to paint and forget, an all-in-one option is worth considering.
This kind of solvent has it all: preserver for protecting the wood, wax for weatherproofing, and dye for aesthetic effect. 
One of the best all-in-one options right now is Cuprinol Ducksback, which can last for five years. It protects the wood with its preserver properties. Waterproofing and weatherproofing are not a problem with wax addition. And you can choose among the six colors of dye variants available. 
3. Best Water-Based Option: Cuprinol Garden Shades
Water-based options are still effective in keeping your wood away from elements that can damage it. However, it is not as effective because it does not penetrate the wood as a solvent would. However, water-based preservers are overall safer and better for the environment. 
Most people are making efforts to switch to water-based wood preservers due to low volatile organic compounds. Overall, water-based wood preservers are easier and safer to work with. 
One of the best water-based options for wood preservation is the Cuprinol Garden Shades. Designed for protecting exterior use, this product gives weather resistance for sheds, fences, log cabins, and summerhouses for six years. 
4. Best Preserver With Wax: Barrettine Premier Wood Preserver
Topcoat is good for an additional layer of protection and for decoration. But what if you don't have the time to apply it manually? This is where wax-based wood preservers come in handy. With additional wax in the treatment stage, you also have additional waterproofing. 
Topcoats such as varnish and wood oil are not necessary if you use wax-based products. If ever you want to add a topcoat in the future, it would still be possible, but not optimal. 
Products like the Barrettine Premier Wood Preserver already incorporated both wax and water repellent resins in their formula. Because of this addition, the Barrettine Premier can be used as a standalone product. 
5. Best Eco-Friendly Option: Osmo Wood Protector
There are certain applications in which organic wood preservers are the best option. Organic solvent-based solutions are actually available in some places.
The majority of its uses are seen on kitchen worktops or indoor furniture. Overall, organic solvents are the best for you if you want less odor and VOCs in your wooden structures.
Osmo Wood Protector is currently one of the best options in the market. It can be applied to furniture and moist environments. If you're going to use your shed as a greenhouse, applying this wood protector is a must. 
How To Protect And Maintain Your Shed? 
1. Treat The Wood In The Shed Regularly
This doesn't mean that you should apply wood treatment in the structure every month or so. Treat the wood at least once a year, especially when your area is prone to extreme weather. 
2. Lookout For Possible Insect Infestations
Insect infestation in wood is very destructive, but it can still happen even on treated wood. Take a good look at your shed inside and out and lookout for wood termites or other infestations.
3. Clean Both The Inside And Outside Structure
You can do this by removing dirt, molds, and organic growth. Avoid storing organic objects that can cause moist buildup. And make sure that your shed is always ventilated properly. 
4. Repair Holes As Soon As Possible
Due to wear and tear, the panels of your wooden garden shed can sustain damages and holes. When this happens, repair the holes immediately. Check for structural integrity if your shed received widespread damage. 
5. Clear Out Plants In The Nearby Area
Plants are generally harmless to the wood. However, insects that live on it are not. They can start a severe insect infestation if left unchecked. Additionally, bigger plants can affect the airflow and make your ventilation ineffective. Branches can also fall to the roof if a strong wind comes and sweep them away. To be safe, just clear out the area and avoid nearby plants from growing.