In an era where there is an increasing need to work from the comfort of the home, garden offices have continued to thrive, mostly because they offer that one thing almost everyone wants – a means to work without having to commute to a regular office all the time. 
Since the first types of garden offices started rolling out, they were originally built to accommodate the owner in such a way that he/she has just enough space to store office work files and other necessary items.
Later on, it progressed to more than that; garden offices started having leisure rooms and even toilets. This helped eradicate the need to have to go back to your house when you need to have a bowel movement, and for those who had a few staff, they could all make use of the toilet. 
Garden offices evolved further to more than just accommodating a single person and having just one toilet.
Modern ones now came with enough space that it could comfortably contain up to five or six persons, with a little space to spare, and what's more? They now have special storage spaces. The essence of the storage spaces in these new types of garden offices is mainly to store important work files, items, and possibly, equipment that is beneficial to the maintenance of the garden office. 
In the rest part of this article, we shall be looking at garden storage spaces; how to add them to your garden office, whether or not you need permission to add them, and the best storage ideas for a garden office. Let's dive in!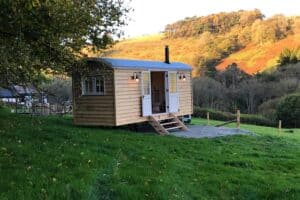 How To Add Storage Space To A Garden Office
Building a garden office in your house is a way to create extra space in your property. Though most people only realize that they need storage space in their garden office after completion, it is still very possible to add a storage space even then. There are two ways to add storage space to your garden office after it has been built. These include:
Split Up Excess Space With Partition Walls 
Creating a partition wall to trim out excess space in your garden office is a way to add a storage unit to it.
Although this works best for garden offices that are within or more than 6 x 6.5 yards of total space. To use a partition wall in creating a storage place, the partition wall will have to be set at either a separate corner or an area at the back or even, and though rarely, even in the middle part of the garden office 
When deciding where to create a partition wall to make space for storage, the choice is usually yours. 
Also, after creating a partition, you can decide to add external or internal doors to make the partitioned areas either completely separated, or slightly included; the choice is also yours.
The internal doors allow the partitioned room to remain part of the garden office while the external doors are used for creating a completely separate space (this is best for creating a storage space).
Using Furniture
Partition walls aren't the only way to create storage space within your garden office, you can also make use of furniture.
By simply arranging several pieces of furniture delicately so that they don't seem out of place, you can easily create storage space. Although, a lot of people do not prefer this option for many reasons which include the inability to find the right furniture to use, and the fact that you could see through some of the furniture. 
Do You Need Permissions To Add Storage To A Garden Office?
You do not need a permit to add storage space to a garden office, this is because, for most garden offices, you do not need a permit to build them so long they fall into the criteria of a shed which should not be higher than about 8.4 feet high. 
When making storage space for your garden as explained earlier, using a partition wall that makes the created storage space appear outside of the garden office might warrant getting permission, but that's only if you are going to make the storage space bigger than the standard size for a total garden office area.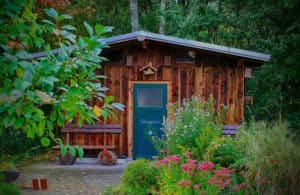 Best Storage Ideas For A Garden Office
Garden office storage spaces are excellent additions to garden offices, and there are brilliant ideas you can use for yours. Here are a few of them:
A Barely-There Cabinet
If you are looking for a way to subtly add storage space to your garden office, then this would be a perfect option. You can easily make a cabinet and put it at the back or side of the garden office, then paint it like the garden office to make it blend in. 
Shelves
This is a great way to store items and equipment inside your garden office. If you have storage space within the garden office, it makes it even better and well-organized. 
A Bench Box 
You can also use a wooden bench but with the seats lifted. The box-like spaces beneath the seat can make nice and discrete storage space and this idea will allow you to store a huge amount of little items and more.