Cold weather does not need to prevent you from getting the most out of your backyard workspace. Work while keeping as warm as you like with our helpful tips for keeping a backyard office warm in winter.
Warm and sunny days make a backyard home office the ideal workspace. But when winter comes around, the icy chill may sap your motivation for hitting your garden office desk.
Of course, a walk through your yard is hardly battling sub-zero temperatures on your city commute, but knowing you won't be freezing for several hours can make all the difference in getting your winter workday off to a great start.
Depending on the caliber of your backyard office build you may be lacking the glazing and insulation which can make it difficult to keep your workspace adequately warm.
Keeping an eye on the thermostat is prudent as while concentrating on hitting a deadline, you may not notice if the temperature drops too low. If you attempt to work in a poorly heated workspace, it can not only be uncomfortable but also dangerous with joint problems, chilblains, and even onset of hypothermia.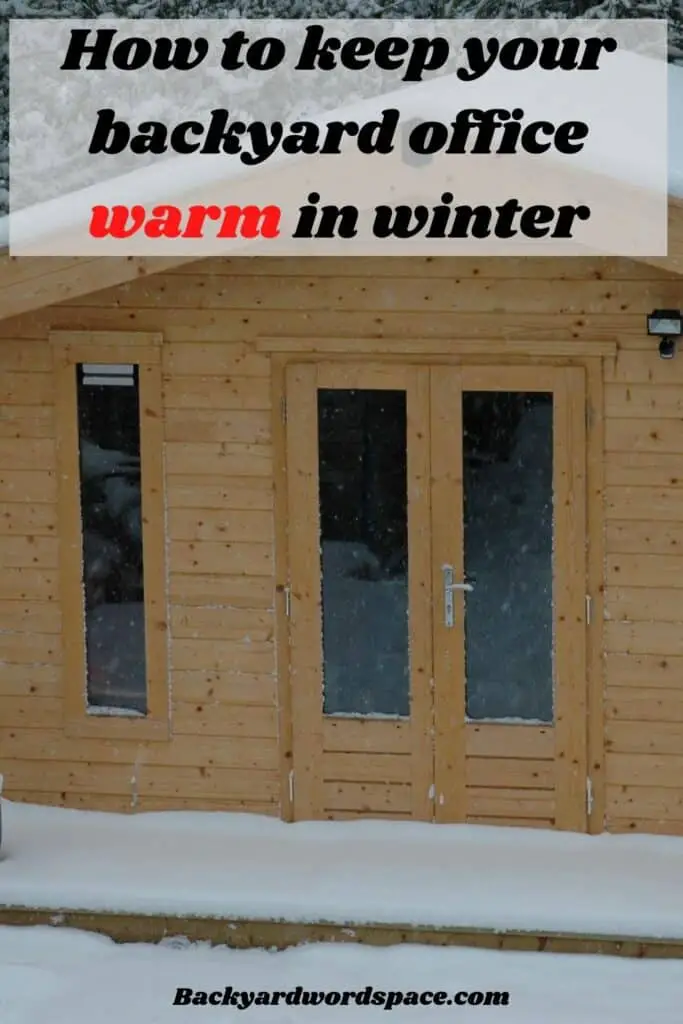 In the workplace, health and safety legislation it specifies a minimum temperature requirement for safe working. The US Occupational Safety and Health Administration specifies a minimum office temperature of 68 degrees Fahrenheit (20 degrees Celsius) and unless you like it very cool like Facebook CEO Mark Zuckerberg, you should be aiming to keep your workspace at a similar temperature through the winter.
Having simple convenient and cost-effective heating solutions on hand will mean that you remain comfortable and most importantly, able to focus on getting the most out of your workday.
Read on for our take on the best strategies for heating your garden office and keeping comfortable and productive throughout the winter months.
Tips For Ensuring You Remain Warm
If you are spending long periods working in a garden studio in cold weather you need to make sure that you keep yourself warm.
An inefficiently heated space can lead to temperature drops that you may not notice while sitting and concentrating on your tasks. Keeping good cold weather habits can ensure you remain safe:
Drink warm beverages: a large cup of matcha green tea or your favorite Colombian roasted coffee will keep your internal temperature up and maintain your caffeinated buzz.
Keep moving: getting up from your desk and walking around your office gets the circulation moving and stops cold from setting in. If keeping active is important for your workspace a standing desk or even a treadmill desk could be a great solution.
Layer up: sub-zero temperatures are not the conditions for sauntering across your yard in your PJs. Make sure you layer up for the job with thermals, fleeces, and even 'Ebeneezer Scrooge' style fingerless gloves to keep your hands supple and warm. 
Got a draughty door or single glazing on your windows? Seal doors, add draught excluders, and put up some heavy drapes to keep the heat inside.
Oil Radiators For Steady Temperatures And Efficiency
One of the big costs of working from home through the winter will be heating, so any method that keeps energy consumption down will be welcome.
Classic oil radiators are a great choice for electric heating for your office. They're cheap and easy to run as they heat a heat-holding type of oil rather than directly heating the room.
This arrangement produces long-lasting heat, often with lower electricity consumption than convection heaters, fan heaters, or space heaters. These panels or radiant heaters are portable and can be snugly secreted under your desk or mounted on your wall.
Take a look at this quality oil filled radiator here on Amazon
A Classic Wood-Burning Stove- Cost-Effective, Dry Heat
If you are designing and building a custom backyard studio you may want to bypass electric heating and opt for the long slow and deep heat of a wood burner.
These cast iron stoves are immensely popular as after the capital expense of the stove, your only regular expense is properly dried wood, which you may be able to find for free.
They will need to be professionally installed to ensure they have a working flue and their combustion products will require cleaning at regular intervals. Wood burners are no longer the preserve of the little house on the prairie. Stylish contemporary and compact designs are available that do a great job of heating even a large studio. The only downside is starting your fire from scratch on icy mornings! Consider using a smart home system to get your office warm and toasty before you hit your desk
We just considered the unpleasant thought of getting the heating going on a freezing winter morning! But what if on a dim, winter morning, you arrived at your backyard office to the lights on, heat going and perhaps even your favorite brew percolating?
All this and more is possible if you are a fan of 'smart home' technologies like ZigBee, Z-wave, or personal assistants like Alexa. It is incredibly simple to rig your garden office with wireless timers, thermostats, and lighting that will automatically activate according to your instruction. You can even control these devices from a smartphone application.
A basic smart thermostat can help you stay ahead of energy bills by starting your heating only when the temperature drops beneath the threshold you set. 
Final Thoughts
One of the best things about creating a backyard workspace is that you can create a space that works for you.
When planning your office setup, consideration of your winter working arrangements will go a long way to remaining productive when the weather gets bad.
Thankfully the broad range of heating options means it should be easy to find the type of heating that will work for your space and allow you to focus on meeting your goals. 
If you are on the market for your ideal backyard office heater, why not take a look at our article: 5 Best Heating options for Backyard offices | Latest prices & Images