If you are interested in getting a garden room or office attached to your house at a reasonable price, note that you can do it with ease.
With a garden room or office, you will get that extra space that you can work from and save yourself the trouble of always commuting to a regular office. If you are asking in your mind: Is a garden room a good investment? We are here to help you make a wise and informed decision.
A garden room is a good investment because it is usually beautiful, functional, and capable of giving your property that extra appeal it needs. Plus, it can also add significant value to your home thereby bringing in a lot more prospective buyers than you can imagine.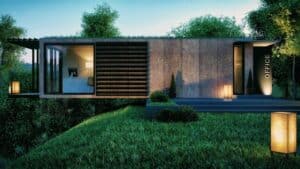 With a garden room, you will be able to fully expand the space in your home or property without having to indulge in all those intrusive and complicated extensions.
In this article, we'll be giving you the reason why we believe investing in a garden room is a good investment and how much value will be added to your property when you invest in one. 
How Much Value Does A Garden Room Add?
When you decide to invest in your property by constructing a garden room, it not only gives you an extra space that you can use for a long time, it also helps you in adding more substantial value to your property.
When estate agents want to determine how much value your garden room adds to your property, they base their valuations on the total floor space of the habitable accommodation within the boundary of a plot. 
The exact amount that will be added to the value of your house depends on several factors. These determining factors include your specific location in the country and lots of other variables including the size and style/design of your home or property.
But, in a situation whereby the price of the house increases, you will be able to increase and pique the interest of potential buyers and increase the value of the property if you can create extra space for your hobbies or work.
The garden room or office is very important and beneficial because it calls for minimum disruption and expenses compared to getting a loft conversion or an extension if the time to be spent in the building is a matter of days and not weeks.
You will be able to use the room for numerous purposes and at all times if the right insulation and double glazing were done. Some things you can use the garden room for include a workspace, a gym, additional accommodation, a playroom, a teenage den, for hobbies, or relaxation with the family and friends.
Based on some studies, adding a garden room or office to your home or property is one of the most cost-effective solutions you can try out if you want to add more floor space to your property.
It is usually observed that on an average level, whenever a property is being sold out to a buyer, the garden room or office adds a value of at least 5%.
Is A Garden Room A Good Investment?
A good investment is one that will yield a good Return On Investment (ROI).
This translates to fruitful usage and a fair amount of money when sold. So far, everyone that has taken the initiative to invest in a garden room has nothing but good stories to tell.
A garden room ushers in potential buyers and gives the property a warm and welcoming appeal. This is the reason why we believe that investing in a garden house is a good option for anyone and it is worth it. 
How a garden room can add value to your house or property varies according to the prevailing circumstances including the appeal or passion it creates on interested buyers. 
Also, always remember that in regions or areas where houses or properties are sold at high prices, the value got from the garden room will increase the total value of the property and even intrigue your prospective buyers more to want to purchase the property.
Most property investors especially business owners will prefer to add extra floor spaces or a garden room than to have an extension built which is more expensive compared to a garden room. 
Some of the benefits or perks you will get from investing in a garden room are:
It is cheaper than the cost that would be used in building an extension.

It does not disturb your normal living.

It makes your house to be more versatile and flexible such that it will suit the needs of potential buyers especially business owners.

You will enjoy tax deductions on Value Added Tax (if VAT-registered) for furniture, fittings, and office equipment.
Does A Garden Office Increase House Value?
The answer to this question is a resounding yes because the presence of a garden office increases user options and flexibility which translates to more value for the house.
Plus, by adding a garden office to your house, you will be getting more areas that you can work in and the original design of your house does not need to be adjusted.
This garden room serves many purposes especially for those of us who work from home and would like to relax in the garden office. It also gives ample opportunity to keep a close eye on the home and also meet up with home chores, especially during work breaks.
There are two types of garden offices that you can decide to invest in. They are:
The bespoke garden office is the best choice for you if your garden has unusual dimensions. With this type of garden office, you will be able to create a beautiful garden office that can perfectly fit the shape and size of your garden.
Despite this being an expensive option for a garden office, it ensures that you will get that unique design that can continue to add value to your home for years to come.
Pre-made garden offices are a cost-effective way through which you can add a workspace to your property. They are usually very easy to personalize or customize to suit your style or taste.
The main challenge that you might come across along the way is to find a building that your pre-made garden office will exactly match. However, with more inquiries made to local agents, you will certainly find one that will suit your purpose even if it requires minor tweaking.
Check out our list of recommended suppliers.