If you are running out of space in your home, it is a good idea to turn your backyard into an office.
This way, you will free up space in the house, and at the same time, you will get extra office space in your backyard where no one will disturb you. Most people don't have too much space in the backyard to make a large office, but if you plan well what your office will look like you can use all the space available to you wisely.
Building a backyard office with a loft will allow you to get extra space for all the equipment you need for the job. Building a backyard office with a loft can be achieved on a budget, and if you are willing to invest more money, you can turn a backyard office into a large, elegant studio.
If you are planning to build and decorate your backyard office with a loft, we bring you a few ideas to help you with that.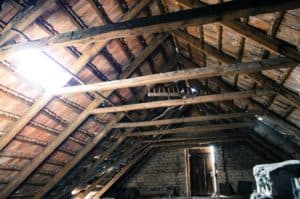 1. A Lot Of Glass
If you want to have the feeling that you are in nature, a great idea is to place as much glass as possible instead of the walls of your backyard office.
In this way, your office will fit into nature and you will have the feeling that you are in it yourself. If you decide to install multiple glazing, building a backyard office will cost you a little more. In addition, you must pay attention to the quality of insulation.
If you decide on this idea for your backyard office, you will have plenty of light and you will be able to observe what is happening around you.
Why make a backyard office in the glass? Research has shown that nature has a beneficial effect on humans. Moreover, it is not even necessary to be in nature, but it is enough to observe scenes of nature to reduce anxiety, anger, fear, or stress.
We know how stressful work can be so why not arrange your backyard office in a way that reduces your stress.
If for some reason you don't want to have a glass instead of walls, you can consider the idea of ​​putting a glass roof instead of a roof.
This kind of roof will allow you a large amount of daylight and you will be able to observe the sky and enjoy the view at any time. However, this kind of backyard office with a loft will require a lot of money and is quite demanding to maintain, so if you do not have time for it, it may be better not to put a lot of glass.
However, you always have the option to put one large window to have enough light, a view of the yard, and the nature that surrounds you.
2. Wooden Backyard Office With Loft
A wooden backyard office will fit perfectly in your backyard.
If you put a big door and keep it open you will feel like you are sitting outside. Of course, for an even greater natural experience, you can combine wood with glass. This solution is great for small spaces that will look bigger and more open because of the glass. To make your wooden office look modern, you don't have to bother too much.
Put a wooden chair and sofa, desk and your office are furnished. In your office, you can insert a small fireplace to make the space look even warmer.
Be sure not to forget to put a wooden ladder to guide you in a loft. There you can store things like your equipment or business papers. If you put a ladder that can be hidden, you will have more space, and whoever comes to your backyard office will be delighted with the simplicity, practicality and beauty of your office.
Be sure to place the ladder in one of the corners of your office so that it does not bother you and take up unnecessary space. Be sure to put ergonomic and eco-friendly furniture and tools in your office to blend in better with nature.
3. Flooring
When arranging a backyard office, it is best to put wood under the floor. Since your office is located in the yard, it is advisable to preserve the natural look of your backyard by placing as much wood as possible in your office.
In addition, the natural look of the room leaves a soothing feeling on the person so it is an ideal solution for office space. Of course, it doesn't have to be real wood. Vinyl or laminate floors come with wood patterns of different colors and textures. You don't have to set aside real wealth for them.
Also, these floors are easy to maintain so you won't have to spend a lot of time cleaning the floors but will simply wipe them off when they get dirty.
4. Color Of Your Walls
If you have a wooden backyard office with a loft we understand that you do not want to spoil the look of natural wood. However, if your office with a loft is not wooden and you need to paint it, be sure to choose neutral colors that will visually enhance your office.
White will most successfully enlarge a room, but if you are not a fan of white, you can use gray walls in a variety of shades. If you opt for one of the bright colors, paint only one wall in that color, and paint the other walls in a lighter, more neutral color.
When decorating your backyard office, you can also use wallpaper that will bring life to the room and make it more comfortable. However, do not overdo it with oversized, bright, or suffocating colors on your walls to keep the space soothing.
For higher productivity, it is necessary to arrange the space in such a way that there are not too many distractions that will reduce your concentration, so be sure to keep this in mind.
5. Make A Patio In Front Of Your Backyard Office
Why limit yourself to just the inside of your backyard office?
In front of the backyard office, you can make a patio on which you will place comfortable chairs and a coffee table. During beautiful days, you can use the patio as part of your office and do the work in the fresh air with the chirping of birds and the beauty of nature.
If you receive clients, a little fresh air will surely come in handy, so you can make new deals with coffee in the fresh air.
The patio does not require a lot of money and effort. With a little wood, you can make a great-looking patio in one day. This way you will further increase your office during the warmer months.
If you're willing to invest a little more money in decorating a patio, you can put it in glass so you can enjoy it even when it's colder outside or when the weather is ugly.
If you put glass, you can add lighting to your patio and make it a real small outdoor living room. Add armchairs, a table, and lamps, and enjoy evenings on your backyard office patio.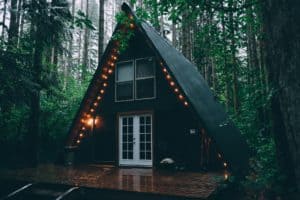 6. Shelves Are Your Friend
When arranging small spaces such as a backyard office with a loft, shelves are a great solution to save space. Over one wall, you can place a shelf that will be used to store paperwork, books, or equipment that you need for work every day.
Shelves that extend to the ceiling may be the best option because they allow you a lot of space for your things and at the same time make the space visually taller and more even.
Low shelves can look nice, but keep in mind that they won't increase the look of your backyard office so if you don't have high ceilings, it's better to opt for high shelves or wall shelves.
You can also consider built-ins that can be very effective.
To make space look more appealing, don't forget to combine decorations with your business equipment so that space does not look sterile and cold. If you do not have space for a large wall shelf, you can always place more small shelves on which you will be able to place everything you need. 
7. Multifunctional Furniture
You can also use multifunctional furniture that contains storage space, such as benches or stools, for storing things. You can put things there that you need, but don't use them every day.
Leave the things you use every day on the shelves or in someplace where they will be by your hand. This will save you time and leave enough space to make your office look neat and spacious. 
For example, you can use this ottoman that you can find on Amazon for sitting and at the same time store things you don't use in it.
This ottoman is quite large and you will be able to put a lot of things in it. When buying an ottoman or bench, be sure to consider their size so that you have enough space for it in your office and so that you have as much storage space as possible.
Whether you are putting in new furniture or using an old one, think of a way that this piece of furniture can be used additionally and free up extra space in your office.
8. Folding Table
Backyard offices with loft are mostly small and do not leave too much space for your belongings.
To save space, you can put a folding table in your office. There are many folding tables and even folding beds on the market today, but this folding table will ideally fit into your office. This folding table is made of dark metal and treated wood that still retains a realistic look.
You put the wood, which serves as a work surface, on the metal construction and you get a work table. However, when you do not need a table and want more space, simply lift the wooden surface, assemble the metal construction and store the table in a place where it will not bother you.
This desk is an ideal solution when clients or partners come to your backyard office and you do not need a desk. Also, the table is extremely light, so you can easily transfer it to the patio when it's a nice day and do your job there.
If you like the idea of ​​having a folding table in your backyard office, you can find it here. 
If you don't like the idea of having a foldable table, be sure to consider a wheeled table so you can move it slightly when you don't need it. If you opt for a foldable or table with wheels, you will make your life easier.
Besides, you will be able to enjoy the view at your backyard office from a different angle every day.
9. Natural Wood Rustic End Table
The main idea of ​​a backyard office with a loft is to fit into nature and have a sense of freedom and creativity.
To achieve this, place furniture in your backyard office that will give you the feeling that your office is also a part of nature which will reduce your stress.
This natural wood rustic-looking end table does not take up much space, so it is ideal for your backyard office. Simply place it between two armchairs. In addition to being functional, this coffee table will serve as an excellent decoration. Imitation wood will bring a touch of nature and your office, and at the same time will add a little charm to space.
This coffee table is made of jojoba wood, and each coffee table is unique and handmade by professional designers. Each coffee-table differs in color, size, and appearance, but don't worry.
Whatever comes in your backyard office, you will surely be delighted with it. If you like the idea of ​​adding a little nature in your backyard office with a loft, you can find this coffee table on Amazon.
10. Add Plants In Your Backyard Office
Placing plants in your office will serve as a great decoration, and at the same time will help your backyard office to fit more easily into the yard.
Today, almost every person in the office has at least one plant, and the reason for this is not just the decoration. Plants have a beneficial effect on humans and reduce the stress that you will certainly have in your office sometimes. They positively affect heart rate, blood pressure, and breathing problems.
Plants elevate every space, and we know that in beautifully landscaped spaces people feel happy, so plants will surely help you with that. In addition, the plants will purify the air in your office and maintain humidity in the air.
If you don't have a lot of space available for plants, you can buy this multilayer plant stand on Amazon where you can put a lot of plants without taking up a lot of space. This plant stand also has a natural look that will fit perfectly in your backyard office. 
If your office is already overcrowded and you can't find space for a plant stand, you can buy these plant hangers for interiors.
These plant hangers are made of macrame thread that will easily hold heavy plants. You can easily hang them and thus save space in your office. In addition to being easy to set up, these plant hangers are a great decoration that will elevate the look of any office and add a little natural aesthetics to it.
11. Pleasant Lights
You need comfortable lights to increase your productivity and keep you awake during the many office hours you spend in the office.
To make your office look aesthetically pleasing, use a few separate lights or set up multiple lights for a better atmosphere. If you want to keep in touch with nature, it is best to use natural materials for furniture and lighting.
For example, this ceiling light that you can find on Amazon will fit perfectly in wooden backyard offices as it is made of a combination of dark metal and wood which gives it a slightly vintage look.
Avoid placing modern large lamps as they will disrupt the natural look of your office. Modern lamps are an option only if you decide to decorate the whole office in a modern style. Otherwise, stick to simple natural-looking lights that will give you enough light for productivity and won't take up a lot of space.
Speaking of light, remember that you can place string lights on the outside of your backyard office to make the whole yard look nice.
12. Comfortable Sofa
The advantage of your backyard office is certainly that you do not have to arrange it conventionally but you can adapt it to your wishes and needs for maximum comfort. If you prefer wheeled chairs, put that kind of chair.
If you want to work from a comfortable armchair, why not? The backyard office allows you to arrange your office exactly the way you want. In doing so, of course, take care that such an office still retains its purpose, which is to achieve productivity and do the job.
In a backyard office with a loft there is often no room for large pieces of furniture so a great solution is to set up armchairs, or sofas, and a coffee table.
Since you will surely spend a lot of time on the armchair or the sofa, make sure that it is comfortable. By no means opt for bulky pieces of furniture that will take up huge space. Choose furniture that seems smaller but still provides the comfort you need.
For example, if you're looking for armchairs that will fit, you're looking for one that looks like this one from Amazon. This kind of construction leaves the impression of space and does not look intrusive, and the wooden look will easily fit into any backyard office.
You are looking for the same thing if you decide on a sofa. You can also consider buying this convertible couch that allows you 3 positions. When your clients come, it will serve as a sofa, but if you need to stretch out a bit, this sofa turns into a bed in just a few seconds.
If you like the idea of ​​having a sofa/bed in your office, you can find it on Amazon
13.Mirrors Or Wall Art
To visually enhance your backyard office you can use mirrors.
Mirrors can help make your walls look wider and can also enhance the light effect. If you place a mirror above the lamp, the mirror will help amplify the light rays and thus give your office a magical effect. It is also a good idea to place multiple mirrors on one wall to achieve a greater depth of space.
You can use different frames in which you will put mirrors and contribute to the decoration of your backyard office. Frames can be found in modernism, rustic, or any style to fit into the interior of your office.
In addition to mirrors, you can enhance the look of your backyard office by using wall art. Art helps elevate any space and gives it a dose of personalization, and is also a great way to express your personality.
You can place works of art, photographs, canvas prints, or posters on your walls. But don't limit yourself to just the things you can buy. Make your own decoration for your wall or put your children's works that will always make you laugh and add a little joy in your backyard office.
By using wall art you can also increase the look of the space if you use different geometric shapes so be sure to explore that possibility as well.
As wall art, you can also use your diplomas, certificates or other certificates of your business success that will visit you every day, how much you have achieved.
14. Hammock Chair
When you are almost outdoors, a great idea to put in your backyard office is definitely a hammock chair. Why not float in your office while you work? The hammock allows you to relax for a moment and thus reduce stress.
Of course, you can't work all day from the hammock because you won't be as productive as when you sit in a chair, but the hammock isn't even meant for that.
You can use the Hammock during breaks and breaks when you need to recharge your batteries so you can keep working and increase productivity.
A hammock chair unlike a classic hammock does not require as much space and can be easily hung. There is only one suspension point which is located directly above the hammock chair.
For example, this hammock chair from Amazon is the ideal solution for a loft. You can hang it wherever you want, and in case you want to move it to another location, just move the hook and hammock chair.
You can take this hammock chair out on the patio during the summer months or simply put it in the yard and enjoy a break from work.
15. Take Advantage Of The Appearance Of The Roof Beam
To give your backyard office a rustic feel, keep the old roof beams in the original wood color.
Natural wood will add a special atmosphere to space. It is a great idea to arrange your whole office to match the beams which means you will need a lot of wood for such landscaping.
It is best to combine natural materials such as wood and metal and you will achieve a warm, cozy atmosphere. Besides, such an office fits perfectly in your backyard as it allows you to maintain a natural look.
 You can use the beams to hang various items. If the beam is stable enough, you can hang a hammock chair on it, thus saving space.
If not, use it by hanging plant hangers or some other decoration that will save you space and elevate the look of your office.
16. Ladders Or Stairs
An item that you will definitely need to have in your loft office is ladders that will lead you in the loft.
It is best to use a loft made of wood to be neutral. It is best, if possible, to place the ladder in the corner of the room so that it does not bother you.
You can also place the ladder perpendicular to the wall so that it does not bother you. It may be a little harder to climb them, but a little exercise always comes in handy.
There is also the option to make a ladder that you will be able to lower and raise as needed. If you opt for such a ladder, you will hide the entrance to your attic and free up extra space.
Be sure to consider decorating the ladder with string lights or some decor to add a little charm to your office.
If you are ready to invest a little more money, you can make stairs that will also be shelves, thus saving space and making a great decoration.