People today look beyond the four walls associated with traditional offices.
The increased popularity of garden offices has eliminated the need to commute. Instead, you may choose to work within your garden office. This however has led to an extensive debate between garden offices and log cabins. More than often people find themselves conflicted about choosing one due to the similarities associated with both of them.
Garden offices are the best because they promote creative freedom, are more economical to use, offer the best quality and design, promote a work/life balance, are easier to insulate, and are ideal for meetings.
In this article, we are going to explore the differences between garden offices and log cabins and see which one is the best. Therefore, read on to find out more!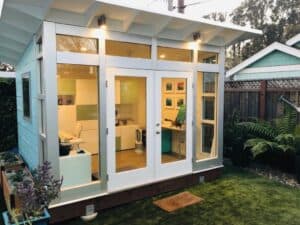 Garden Office       
As days pass by, more companies are giving their employees the flexibility and freedom to work from home. However, work gets more complicated for those who live in noisy homes and unstable environments. As a result, more people have resorted to working in garden offices located within their compounds.
Garden offices will offer you the time and space to work away from any distractions. Most people who already own garden offices refer to them as secure and professional workspaces that are suitable for a huge range of occupations.
Garden offices will allow you to connect with the work world while at home and have a creative working space that is economical. The garden setting and working in the presence of plant life is an added advantage since it increases productivity.
Log Cabin
The main difference between a log cabin and a garden office simply arises in the difference in construction systems used. Log cabins are often small houses built of logs. The logs are joined at the ends and the spaces filled with plaster or other materials recommended for construction.
If you intend to live in a house with a log cabin, consider checking areas that have wood in plenty since that's where construction materials for the cabins are readily available. Most people forget that log cabins can be designed differently (can have a modern look) and often associate them with a classic rustic look.
You can use log cabins for different purposes. You may use them as barns and can be modified to fit any use.
So why a log cabin instead of a garden office? Or why a garden office instead of a log cabin? Let's have a look at the differences.
Garden Office vs. Log Cabin: Which One Is The Best For You?
It's tricky when choosing between the two. You could try putting major focus by looking at their comparisons, pros, and cons to find one that suits your lifestyle and preferences.
The financial aspect involved is significant when choosing between a garden office and a log cabin.
Most people argue that log cabins are cheaper compared to garden offices. This may be true to some extent. In the long run, a cabin may prove to be less economical, however. Poor insulation makes it difficult to use log cabins during the winter. They can only be used during the warm days. This makes them less of an economical choice.
Apart from working from home, garden offices can be used throughout the year. Most garden offices are built with double glazed doors and windows and thick timber. This gives them a modicum of insulation making them a good economical choice. Besides, working from home also allows you to save on commuter fees.
If you intend to use your office for a long time, it will prove to be economical in the long run and will add value to your property.
It doesn't matter how much you spend on your log cabin, it can't provide the creative freedom a garden office has to offer.
The huge space available in garden offices makes it easier to design your office in whichever way you want. Modern garden offices even allow space for flowers and plants and some people find such an environment refreshing.
You can also decide to split your office into more rooms which your colleagues or family members can use. For those who hate working in confined spaces, light colors will make your garden office feel more spacious. The creative freedom gives you the ability to design your office as you desire as you enjoy the process. You may even decide to create your garden office to resemble a man cave!
In most cases, people purchase log cabins from local suppliers within their localities. Log cabins do not offer you the opportunity to make adjustments once delivered to you. Even though you may add more features to your cabins such as area rugs and other décor, you are likely not going to get the space you crave for creativity.
You cannot get creative enough with designing your cabin as compared to a garden office. This is why a garden office is the best choice.
Take a look at some of these manufacturers for some inspiration.
As much as it is tempting to buy a log cabin due to its relatively cheap price, you may want to reconsider your decision. Perhaps you should ask yourself this: How much money am I going to save when choosing between a garden office and a log cabin?
Most log cabins are made of cheap timber or wood. While log cabins are believed to have good thermal retention, they have been proven over the years to be poorly insulated compared to garden offices.
You are likely going to pay more for the installation of heat appliances where you purpose to use a log cabin during the winter days. It's worth noting that most of these alternative heating techniques such as the use of appliances are more costly than you think.
When the winter season comes, you would wish to have instead chosen to work in a garden office.
Talk of walls, floors, doors/windows, and roofs, garden offices will have that covered when it comes to insulation. Consider getting yourself a garden office which is made of quality building materials. The walls of your office will be able to retain the natural heat by preventing it from escaping. Besides, thick timber and quality of housing materials prevent the floor from becoming cold during the winter days.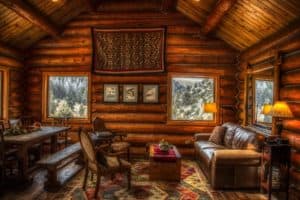 A garden office gives you a professional and ideal space to work in and concentrate. While the same can be said about log cabins, you should not forget that most cabins are designed for relaxation purposes. This may hinder your work output and productivity since you will likely lose concentration as a result of the comfortability cabins offer.
Unlike the traditional offices, garden offices are spacious enough that you may decide to hold team meetings or group training with your colleagues.
Having extra space within your garden office gives you an opportunity for a professional space where you can pitch to potential investors. Holding meetings in log cabins is often not possible and the ambiance in such cabins anyway is not professional.
If you choose the option to own a garden office instead of a log cabin, you will have space for holding custom meetings, team training, and presentation. I wish the same could be said about log cabins but in reality, they won't offer the professional outlook that you may be looking for.
    Quality And Design
It's no surprise that when choosing between a garden office and a log cabin, it often narrows down to their quality and design. When contemplating between the two, you should take a closer look at the quality of the materials which determines the durability of each.
Housing experts suggest that timber is the best material for both of them. You should, however, note that garden offices are made of thick timber whereas log cabins are made of logs or wood that are low-quality.
As mentioned earlier, most log cabins are made with a classic rustic look while garden offices have a modern design. If it's 'class' you are looking for, choosing a garden office over a log cabin should be straightforward. However, log cabins can also be designed in many styles and it will be up to you to pick the best one that suits your needs.
Choosing between a log cabin and a garden office is quite a big deal.
Opting to have a garden office though, gives you a work/life balance while keeping your personal and professional lives separate. This is a balance that can't be equaled in a log cabin.
To sum up, having a garden office is the best option as compared to having a log cabin. So anytime is a good time to get that garden office you have been yearning for years. Think of the commuter free life you will enjoy it if you pick a garden office!
We have a strong feeling that choosing a garden office will be a good deal for you. You should put serious consideration into the differences discussed above before making your pick.