Having your own workshop is a great experience, and building one yourself is even better. You get to design your workshop exactly like you want. Many people would want their own backyard workshop, but they are scared that it will cost too much. How much does it cost to build a backyard workshop?
If we don't add the cost of equipment that you'll have in your workshop, it usually costs around $10,000 for a workshop that is 12×12 feet. If you get a prefab metal kit, it will cost you about $10 to $30 per square foot.
You can choose between building your own workshop from scratch or buying a prefabricated one. Prefabricated sheds are usually used as workshops. They are much cheaper than building your own workshop, however, they don't last very long. Keep reading to find out everything you need to know about building your own workshop.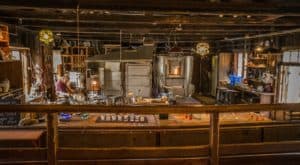 Planning Permission
The first step on your way to building a backyard workshop is determining whether you need planning permission. This is the most important step. In case you build your backyard workshop and one of your neighbors complains and gets the attention of the planning committee, they could make you take down your backyard workshop. 
Getting planning permission takes about 2 months, so make sure you apply for it early enough. 
You can build your backyard workshop if you follow the rules of the development. They will sometimes vary from one place to another, but they are more or less the same. These rules will tell you how big your backyard workshop has to be in order to build it without planning permission, and where you can put it in your backyard. 
Now, it is called a "backyard" workshop, but if you were planning on placing it in front of your home, unfortunately, you wouldn't be able to do that without planning permission.
If you want to build your backyard workshop without planning permission, you will be limited to only one storey.
That storey can be as high as  8 feet 227⁄64 inches. This might seem like enough, but most storeys in regular homes are 9 feet 215⁄64 inches high. Those ceilings are high enough to make you feel comfortable. When you add insulations, it ends up being about 9 feet 107⁄64 inches high. This means that your workshop ceiling will be 7 feet 239⁄64 inches tall.
This is absolutely not enough space to keep you comfortable.
Some tall people feel claustrophobic in rooms with such low ceilings. Now, you might consider not insulating your workshop to gain that extra height. That would be a very bad idea, as insulation keeps you warm during the winter and cool during the summer. You will spend much more money on keeping your workshop warm and cool than you would if you properly insulated it. 
Your neighbors might complain once you apply for planning permission due to the fear of you being too loud when working in your workshop.
Nobody wants to listen to power tools all day. To eliminate any possible complaints, work with an architect and an engineer who will calculate and determine which sound insulation and how much of it you need so you don't disturb your neighbors.
Once that is determined, take your time to explain to your neighbors that they won't be bothered by any noise because your workshop will be properly insulated. 
DIY Or Prefab Backyard Workshop?
It's very important to know all advantages and disadvantages of building your own workshops and using prefabricated ones. 
Prefabricated sheds are most commonly used when it comes to backyard structures. They are very easy to set up and the process doesn't take much time. You have to keep in mind that prefabricated sheds are limited in size. If you wanted to build something big in your workshop, you probably wouldn't be able to. They can't be very big because they have to be transported to shops. 
Prefabricated sheds are less expensive than the ones you can build yourself, however, they are less durable. They also don't come with a foundation, which is a must if you want your workshop to last a long time. 
When you build your own shed or any outdoor space, it tends to last about 80 years. Prefabricated sheds last only around 20 years and after that, the floor starts to rot. 
Many people don't like the thought of building their own workshop because of how long it takes and how costly it can be. You can always hire someone else to do it for you, however, that will increase the price significantly.
When we do the math, it makes much more sense to invest in a workshop that will last for some 80 years than to buy a new prefabricated one every 20 years. A workshop that you make yourself will last you your whole lifetime, and you will even be able to pass it on to your children. You can ask a few friends to help you and you will be done much sooner.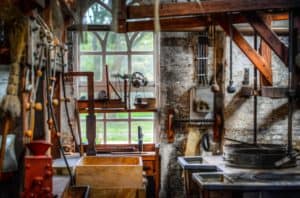 Foundation
As already mentioned, prefabricated workshops don't come with a foundation. Having a foundation is very important because it makes your workshop sturdier and safer. You wouldn't live in a house without a foundation, why work in a workshop without one?
The best foundation for a workshop is a concrete slab, but you can also do plinth foundations and concrete piles. It is best to pick a foundation that doesn't need a lot of preparation work but still provides a high-quality base layer. 
Make sure you always insulate your foundation with a damp proof membrane if you're using prefabricated workshops. This isn't necessary if you're building your own workshop, as you'll put insulation in the floor. 
Electricity
You will need electricity to power lights and all your tools. Make sure that the electrical connection between your workshop and your house is buried about 500-750mm deep for safety reasons. It is not advisable that you leave any cables out in the open, especially if you have children or pets. 
Design Of A Backyard Workshop
Building your own workshop allows you to work in a comfortable and big space.
However, if you build a workshop that is too big, you might make your backyard crowded. It would be best to consult with an architect before you start to build your workshop. They can help you optimize your space.
Keep in mind that your area has special design codes they want to promote in the neighborhood. An architect will help you fit into that design which will make it much more likely that you'll get your planning permit. 
The size of your workshop should depend on what you'll be doing in it. You should choose durable, high-quality materials for your backyard workshop.
It's very important to have a lot of light in your workshop.
You should install enough lights so that you can see everything perfectly even when it's really dark outside. I absolutely loved this motion-sensing LED light. No more tapping on the walls to find the light switch. This light turns on as soon as it senses that something is moving. This light alone won't be enough to light your whole workshop, but it will be enough to let you see where you're going and where the light switch is.
Another reason why a motion-sensing LED light is great is because it will let you see if anyone comes into your workshop while you're not there. You will see the light shining from the windows and be alerted if anyone tries to steal something from your workshop, or if an animal manages to get in. 
You will need at least 2 windows in your workshop to let enough sunlight in. It would be best if you had 2 windows facing south because that's where most light comes from.
As for ventilation, it would be good to have windows on the opposite sides of your workshop so that you can create a draft. You will probably be working with glue and other toxic fumes, and it is very important that you can properly ventilate your workshop. 
You should choose double-glazed windows and doors for your backyard workshop. These windows and doors won't let any heat out during the winter. They might be a bit more expensive when you first buy them, but they will save you money in the long run. 
A good workshop should be well-organized so you always know where everything is.
This will not only save you time but also make it more enjoyable to spend time in your workshop. To maximize your storage space, you can get custom built-in shelves. It's also a good idea to get built-in work surfaces. Not all projects need the same size workbench, and this will allow you to get the one that suits your needs the best. Wall shelving and pegboards can help you avoid clutter. You can even add a metal board to keep all your screws in one place. 
You might want to get a taller table for your workshop if you'll be using a laptop. This will allow you to use it while standing. Adding a ramp to your workshop might be a good idea, depending on what you'll be making and what type of tools you'll be using.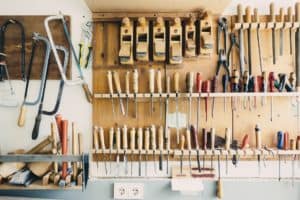 Workshop Roof Types
Regardless of whether you will build your own workshop, buy a shed, or get a prefab kit, you will have 2 options when it comes to roofs.
It would be best if you matched the roof of your home to the roof of your workshop. This will make your workshop blend in with your home. If your workshop has a single-slope roof, it can only be 8 feet 227⁄64 inches tall at the eaves and it will have to be placed more than 6 feet 647⁄64 inches away from your backyard boundaries. 
A flat roof is a better option if you want to place your workshop within 6 feet 647⁄64 inches of your backyard boundary because then your workshop can only be  8 feet 227⁄64 inches tall. It is also great because you can create a living area or a garden on top of your flat roof. 
If you're going to build your own workshop, you should get durable material. There's no point in building a workshop that's going to last for 80 years and using cheap material that you'll have to change every few years.
If you live in a warm climate, you should consider getting tile roofing.
This type of roofing is very durable and the best choice for roofs that are exposed to the Sun a lot. Tile roofing might even last some 10 to 20 years longer than your workshop. It is fireproof which is good in case anything goes wrong in your workshop. This is one of the most expensive roofs, but it is also one of the longest-lasting. 
A cheaper option would be wood shake shingle woofing which lasts up to 50 years. This roofing isn't fireproof but it is a great insulator. However, unlike tile roofing, this roofing will need a lot of maintenance. 
Keeping Your Workshop Safe
Tools that you keep in your workshop can be pretty expensive. You might want to invest in a really good lock in case anyone tries to steal something. Installing an alarm is also a good idea in case the lock fails. You might consider having curtains so that nobody can see what you have in there. 
Tool Selection For Your Workshop
There are some tools that almost every workshop should have. 
Staying safe while working is the most important thing. If you're not wearing your eye protection or gloves, you can end up with serious consequences. Many people have cut themselves pretty badly or lost an eye because they weren't properly protected. 
The most versatile type of pliers out there are slip-joint pliers. They are very useful and definitely a must for every toolbox. 
Instead of having a power wrench, you can get a socket wrench. You can get a 3/8-inch socket wrench with a few extenders as well as a set of sockets. This will allow you to quickly tighten and loosen nuts and bolts. 
Utility knives are very useful and very cheap. Make sure you get a utility knife that has a retractable blade. If you don't retract the blade, you can forget about it and cut yourself. You will have to change the blades often, but that's okay since they're pretty cheap. If your utility knife is dull, you are more likely to get injured. 
Every workshop needs a hammer. It is best to get a curved hammer so that you can drive nails as well as remove them. Some people prefer lighter hammers, but that does mean that you have to use more force when using them. 
Get a good, long measuring tape.
Level is such a useful tool. It determines whether a surface is perfectly horizontal or perfectly vertical. You don't want your projects to be crooked.
If you're going to be working with wood, it would be a good idea to get a circular saw. 
Power drill is another very useful tool. With a good power drill, you will be able to drill holes and drive screws better than with any hammer. You can choose between a cordless power drill or a corded power drill.