Many of us enjoy the benefits of regular exercise in the gym and these would be great when combined with our productive hours at the office or our workspace. Also, going to the gym can be quite a hassle, not to mention the fact that you would have zero privacy.
So, nothing beats having your own space for relaxing and for workouts, away from people. This way, you don't have to leave your house just to workout or exercise. No membership fee, no hassle of sharing your space, or using overused equipment will be encountered. 
Having a garden office gives you the time to get some work done on your own from home without any distractions.
Installing a gym in your garden office will save you so much time and energy. We understand the importance of having your own garden office and gym and that is why we have provided this guide with some ideas for your personal space.
Whether you're thinking of building a garden office or you have one already, this guide provides some amazing ideas you can use for your garden office and gym. Let's roll!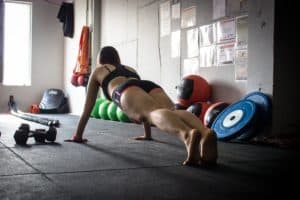 Amazing Garden Office And Gym Ideas To Inspire
We are quite convinced that you'll get addicted to your garden office with a gym when you apply the following ideas:
Equipment
The first thing you need to think about when designing your garden office and gym is the equipment you need to install. Some gym equipment like running machines and cross trainers tend to elevate the user. This can be inconvenient if you are tall and can be worse if the height of your garden office and gym is low. 
The maximum height you are allowed to have without getting Planning Permission is 8.2 feet, so take note of the equipment you want to buy if you want to avoid requiring Permission. On the other hand, getting permission is worth it if you don't want your movement to be restricted when exercising. 
You can also add a lot of glass to it if you want to add a premium feel to your garden office and gym.
It will allow as much natural light as possible into the building. You have to be careful not to add too many windows to have enough space for you to work out and to prevent limiting the space for placing your gym equipment. You also need to ensure that you still have your privacy in case your garden can be easily seen from the outside.
Separating The Garden Office And Gym
Another idea you can consider when designing your garden office or gym is to build a separate garden office and gym side by side instead of building them together.
You can achieve this by simply dividing the two rooms with a wall. The most common design is to either build a garden building with one room for both the office and the gym or to divide the gym and office into two independent rooms with their separate doors by constructing a wall between them.
By constructing the gym and the office independently, you will make your garden more unique.
It will also improve your concentration in your office because you won't be disturbed by the noise from the gym equipment from the other room in case if another family member or work partners/assistants are using it. This consideration will also be more useful for you if you are the type who makes a lot of phone calls and online video conferences/meetings. 
Ventilation And Temperature Control
You should get an air-conditioning unit if you want to have a good time in your garden office with a gym.
You can try to make the room insulated with high-quality materials that will make it warm from the heat generated from high-intensity workouts for the winter seasons. You can also include double-glazed doors and windows to add to the insulation. 
The air conditioner will keep things cool during the summer days.
Make sure there is proper ventilation for days when you just want fresh air. You can also add some windows to the building to boost ambiance and allow you to relax from the view of the surrounding scenery, especially during break times.
A Bi-focal door can also be installed to allow you to open up one or two sides of your garden office gym to the cool refreshing breeze. Try to also be creative about the placement of your windows.
To make things much easier for you, a wall-mounted, efficient climate control unit can be installed to keep you warm during the summers and keep you cool during the winter. Most people choose this option for convenience. You can also get a unit that can be controlled wirelessly by using Wi-Fi or Bluetooth to allow you to adjust the setting from any part of the room.
Flooring
One of the coolest things about garden offices is that they are adaptable. You might want a home office at some point in time, and then later you can change it to a garden office with a gym or even a yoga room. Whatever your choice, make sure to protect the flooring for future purposes. 
You can make your flooring out of engineered oak to make it strong enough to withstand extreme wear and tear especially from gym equipment.
The type of equipment you want to use will help in your decision to choose a base. You can be interested in doing simple cardio or yoga, high-impact dance, or heavy weightlifting. All of them require different types of bases. 
So, choose the base that fits your style and workout routine so that you won't have any issues down the line. We recommend that you use commercial-grade interlocking foam to protect your delicate flooring in case you are planning to use free weights.
Add A Shower Room To Your Garden Office With A Gym
A shower room can be included in your plans for your garden office with a gym if you have more space so that you don't have to go back to your house to bath or have a bowel movement. A Building Regulation approval might be required for this to work, so try to get opinions from the Council in your area. 
You can also get a garden room company to help with the installation of the sanitary ware and connections of pipes to the mains supply. 
Take a look at this list of suppliers
Television And Internet Connections
During electrical installation, ensure that that connections point for your television is prepared so that you can watch all your favorite shows as you perform your workout or during free periods after working in your garden office. 
You can also find a way of getting a good internet connection which is very useful for online work and also for having virtual meetings or conferences.
Music
The other utility you can have is a sound system.
Most people like listening to their favorite music when working out as it keeps them going harder and harder, stretching their limits. When designing your garden office, you can have high-quality speakers embedded into the walls or mount them to your roof so that there will be space for your gym equipment. 
You will be able to enjoy it more if they are Bluetooth-enabled so that you can play your favorite songs directly from your phone. Try to make the room a bit soundproof so that you don't disturb your neighbors or office partners. To show more of your creative side, you can mount your records and wallpapers of your favorite artists on the wall. 
Refridgerator
You can include a refrigerator in your garden office with a gym if you don't want to go through the hassle of carrying cold drinks back and forth from the main house. 
It also means that you can keep your favorite drinks and beverages in your refrigerator instead of the family refrigerator which will prevent someone else from touching them without asking for your permission. 
To make things better, you can get a beverage refrigerator instead of the standard refrigerator which will make taking drinks more interesting and easy.
Choosing Your Utilities
This idea might not be as exciting as the others but it is still one of the important designing processes you should consider for the final layout. Decide the best place and positions for your sockets and lighting fittings.
To make your garden office and gym tidier, you can try to install your sockets on the floor instead of running untidy cables. Spotlights should also be considered if you want the gym part to look bright and sharp. 
LED lighting is considered one of the best choices for spotlights because they don't generate as much heat as regular bulbs and they also help you to save a lot of energy bills due to their energy-saving feature. You can also get dimmers and multiple circuits so that you can control the lighting of the gym part of the garden office.
Work On The Surroundings
Most people tend to focus more on how their garden office with gym appears on the inside and then forget about how it looks from the outside.
Try as much as possible to think about what you want the outside to look like and how it can fit in your garden. Your garden office will probably be visible through the windows and the last thing you want people to think about is how the inside contrasts badly with the garden itself.
You can choose to clad the external parts of the garden office or gym with Western Red Cedar cladding which is one of the best external finishes for your garden office with a gym as it will offer a low-maintenance lifespan.
You can get a garden room company to help you with this. Some have a special design feature that involves mixing the cedar cladding with Anthracite grey Trespa soffits, skirt, and fascia around the base of the building. Trespa also has a low maintenance lifespan. 
Plants can be placed around the building to reduce straight lines in the design which will make your garden office and gym to blend more with the surrounding garden. 
Storage
Another idea you can consider is a storage room.
This a place where you can keep office equipment, stationery, spare parts of gym equipment and other extra equipment, gym clothes, towels, books, etc. Well-designed storage space will keep your garden office and gym clutter-free. It will also increase the space for both office and workout activities.
Roof Types 
There are a lot of shapes you can choose from for your garden office and gym. Your roof can be a pitched roof which will make the interiors of your garden office or gym space have extra head height. 
You can also use flat roofs with rectangular and box-shaped buildings, giving the building a versatile space. You can also choose an L-shaped structure which will offer a lot of flexibility to divide the room for different work areas. This will also improve the overall appearance of your compound.