It is becoming much more common nowadays for people who choose to work from home. After all who needs the commute?
That's why garden offices have become such a popular option for people who are into remote working. A garden office can help you get a better work-life balance.
Once you have decided to invest in your own garden office, however, it can often be difficult to know exactly where to start. How do you choose a suitable garden office?
When choosing a garden office you should consider factors such as your budget, durability of the garden office, the style/design, installation, the available space in your garden, planning permission and building regulations, the supplier, the windows and doors, and the size of office you desire.
Analyzing your preferences based on these factors will enable you to make the right choice when buying your garden office. It's important to carry out extensive research when deciding on a garden office to get it right.
In this article, we are going to have a look at whether a garden office is a good idea, how to choose the best garden office, and whether you need planning permission for your garden office. This will certainly be an insightful read for you. So sit back, relax, and read on to find out more.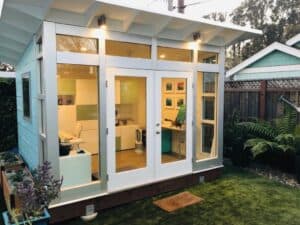 Is A Garden Office A Good Idea?
In today's world, a majority of companies and organizations are realizing the benefits of remote working. More and more of them are encouraging this particular trend. This is particularly one of the reasons why garden offices have become so popular nowadays.
But just because something is popular doesn't mean it's the best, right?
You're probably already wondering whether having a garden office is a good idea. This is quite understandable considering that garden offices may not be everyone's cup of tea. So, is a garden office worth it? We have just the answer for you!
Yes. A garden office is a good idea. It's a fantastic idea! As remote working becomes a popular trend in today's world, investing in a garden office is a wise thing to do.
One of the major drawbacks of working at home is that there is rarely ever enough space to work from. Working from the dining room table or the sofa isn't a professional solution if you lack a workroom. Garden offices can fix this problem.
Garden offices hold numerous benefits and for this reason, getting one might just be what you need. Here are some of the benefits that could accrue to you if you do go ahead and get a garden office:
Customization
Garden offices allow you to work in an environment of your own choosing. Rather than having to spend your weekdays crammed into a cubicle desk, a garden office gives you the chance to customize your workspace in a way that will make you more productive. This is because you will have complete autonomy over the décor of your garden office. For this reason, a garden office is a good idea.
Added Value To Your Property
A garden office is likely to raise the value of your property by as much as 5-7%. This makes it a sensible investment. So if you'd like to get more from your property after selling it in the future, a garden office is a good idea.
Work/Home Divide
If you are working from home, a garden office is a good idea if you want to separate the work and home environments and therefore have fewer distractions.
No Office Politics
A garden office enables you to escape the complexities of office politics since you are free to work by yourself. This will make it possible to concentrate on your work.
Balanced Home And Work-Life
If you have always struggled to maintain a balance between your home and work life then working from your garden could be the answer. The flexibility of being able to take a break and engage in family life while still being able to go back to work is a huge benefit.
No Commuting
Having a garden office eliminates the necessity of commuting to and from work which saves you time and money. Having a garden office means you can literally get out of bed and walk to your office.
A More Professional Look
Rather than using the dining table or squeezing a desk into a spare bedroom, having a garden office is a good idea since it offers a more professional environment to work in.
A garden room doesn't have to be solely a work office. It can be a place to escape from the hustle and bustle of the house. It can also be a game room or a hobby room. These many uses make a garden office a great idea.
These are just but a few of the reasons why having a garden office is a good idea. So why not get one for yourself and reap the benefits?
How Do I Choose A Garden Office?
Are you thinking of getting a garden office so you don't have to commute daily to work and can maintain a work/life balance?
Getting a garden office is a significant investment and for this reason, you'll want to know what's what. To get the most out of this building, there is quite a lot that you will have to consider before getting one.
Luckily, you are in the right place. Let's focus on helping you make informed buying decisions so that you end up with a perfect garden office! So how do you choose the right garden office?
There are several factors that you should consider before getting a garden office. These factors will guide you on how to make an informed decision on the best garden office for you. It's also important to do thorough research on the available options.
Below are the factors that will help you to choose a garden office (How to choose a garden office).
Budgeting For A Garden Office
There are lots of garden offices in the market to suit all budgets. To make the right choice, you should check out exactly what you will get for your money– there can be several variations. Whatever your budget is, make sure you carry out intensive research to find the best deals you can get. Having a smaller budget shouldn't be a problem. With thorough research, you can find lots of garden offices that are amazing.
Durability
Generally, garden offices are pretty durable. We should, however, mention that the durability of garden offices will vary from one to the other depending on the materials that are used to make them. So when choosing a garden office, it's important to choose one that is constructed to be durable for ages. It's easy to identify the durable ones from those which aren't.
Garden Office Style/Design
Garden offices come in many shapes and sizes. Features such as the floor-to-ceiling glazing, glass bi-folding doors, colored cladding, etc. will help you decide on the nest choice of a garden office. So to choose the right garden office for your preferred style, consider the design elements you like.
Installation Of Garden Offices
On most occasions, you are required to have a suitable base for your garden office before installation. To choose the right garden office, you should do some research on the best bases before delivery of your garden office to ensure that it will be installed correctly.
Available Space
To make the right choice of garden office, it's important to consider the space that is available in your garden. This is because the available space will determine the garden offices that you can or can't get.
Planning Permission And Building Regulations
To choose the right garden office, you should research the planning permissions and building regulations for garden offices in your area. These will determine the kind of garden offices that are considered legal by your local authority. They vary from one state to another so you must look them up before buying your garden office.
Suppliers Of Garden Offices In The USA
There are several garden office suppliers in the market. These suppliers provide garden offices of varying quality and durability. To choose the right garden office, find the most reliable and well-reviewed suppliers in your area and those whom you see have the best garden offices on offer.
Check out this list of suppliers to get some ideas of what's available.
Garden Office Windows And Doors
These play a huge part in the purpose of the garden office such as how much light is required throughout the day. Many garden offices come with a variety of options for windows and doors so you can choose the best environment to work in. To choose the right garden office, consider getting one that suits your taste and needs to provide you with the best working environment.
To choose the best garden office, consider searching for one that is big enough to evolve with your needs. When you do this, make sure to also consider the space that is available in your garden.
Do You Need Planning Permission for an Office in the Garden?
Not necessarily. A garden office is considered an outbuilding on your property. Outbuildings are classified as "permitted developments" and they do not require an application for planning permission provided they meet certain conditions.
So in essence, you won't need planning permission if your garden office:
Is built at the side or rear of your house.

Is over 6,56ft from the boundary of your property.

Is a single-story building with a maximum height of 8.25ft.

Has a maximum coverage of 322.90sq ft. if the garden covers more than 1076sq ft. or has coverage of 215.28sq ft. if the garden is less than 1076sq ft.

Isn't built on the grounds of a listed building.

Isn't to be used commercially or as a dwelling.
If your garden office doesn't meet these requirements, you will need to apply for a planning permit from your local authority.
If you are on the hunt for the best garden office, then follow the tips in this guide and everything will be smooth sailing!