With each passing year, freelancing and other working-from-home jobs are becoming more and more popular.
Owning a garden office will give you a personalized space where you can work in peace and in private without having any form of distractions that can reduce your level of productivity. Also, having your own office at home will eliminate the stress of commuting from one place to another when you want to get a job done thereby giving you more time to get more jobs done.
For a garden office at home, you can decide to build an extension but that will take up a lot of time and money.
So, if you want to get a garden office that won't take up much of your time to fully set up, you can decide to use your garden shed as a garden office.
All you need to do is to do a little cleaning and organizing, and excitingly, you will get a self-sufficient and productive space where you can be able to make a living and also create, think, and ponder. 
This article contains a list of 5 great ideas for garden office and shed combined that will make your neighbors wish they had followed your lead.
Check out these garden office suppliers for some inspiration!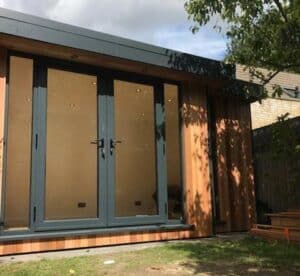 5 Great Ideas For A Garden Office And Shed Combined
1. Modern Garden Office Sheds With Wooden Plank Siding
Buildings that feature wooden plank sidings usually turn out to be one of the most attractive sites or buildings in the world — no exaggerations there. Any building that has wooden plank sidings tends to have this inviting and stylish look. This design will work wonders in your garden office and shed. 
So imagine your garden office and shed with this feature.
It will look so sleek and yet, so simple. Plus, it is no news that wooden plank sidings easily fit in with architectural trends that are more traditional. Besides the wooden plank sidings, you can also go for some bold glass inclusions so that you will be able to create a feeling of contemporaneity.
You can always repurpose the garden office and shed combined for storage needs and some additional needs like a guest house or even a room for a workout can be added.
2. Modern Garden Office Sheds With Louvre Systems
Most garden offices and sheds combined that are being built nowadays are usually small houses that someone could even begin to live in (if Planning Permission allows that).  These small structures can be used for a lot more purposes than they are given credit for.
For this garden office and shed combined idea, imagine a brick, cube-like structure that has a timber facade and a louver system to provide all of the users with the privacy they require.
It also helps users to be able to eliminate some kind of visual distractions. In short, these small garden office and shed combined provide users with both functionality and natural aesthetics.
This garden office plus shed features glass walls all around its four walls but whenever you crave that much-needed privacy and need to shut out all possible distractions, you will be able to get that comfort from a louver system. 
The design of this structure perfectly fits the true definition of a sophisticated and stylish structure because the louver system looks a lot more decorative than practical.
3. Minimalist Modern Outdoor Garden Office Sheds: Green Roof
These might not be as decorative as you might imagine. But, a green roof is a nice way to insulate a pod just nearby sparkling under the sunlight. Guarding yourself with nature is also a good way to go into creativity thereby creating a comfortable environment to work. 
The glass doors are enclosed in a wooden plank which is used as the wall making it appear so stylish. Its black, steel-framed windows and glazed doors speak a lot about this garden office shed.
This modern garden office idea features numerous details that make it look really simple. They include the green roof, glazed doors, walls, etc. The design makes it good for focusing more on work with no distractions whatsoever. 
4. Garden Office Shed Combination
This building is a large one with office space located on the left-hand side of the building and can be easily accessed through its glass sliding doors.
The storage shed is also installed in the large building, but is located on the right-hand side of the building and can be easily accessed via a concealed door. Its doors are made of cedar boards which are carefully placed into the wall in a way that the doors seem almost unnoticeable. 
A decked veranda surrounds the building on three elevations.
This veranda is also made of cedar boards which have been used to design the walls and shed's door. LED lights are fixed into the deck of the veranda which would make it look astonishing at night and also for better visibility of the building from the outside.
The lights and heating installed in this garden office can be controlled by a smartphone app. This allows the user to be able to control the lighting and heating easily. The light and heat settings can also be changed depending on the user's preferences or type of task. 
5. Biohort
This garden office shed is made of steel and that makes it different from most of the garden office sheds out there that are normally made of wood or glass.
These metal sheds are made with only the best high-quality metals and that is enough giveaway for you to tell how much advantage this garden office shed has over any other material immediately you set your eyes on it. 
If you follow up on metals, you would know that rain or sunshine do not affect the quality or state of steel. It can go on and on for years without any damage and it is also very much fireproof.
So, you do not have to worry about it rotting or the paint washing off after some time. The coating that will be used for painting this garden office shed will make it maintain its color even when a pressure cooker is used to wash it. 
Another exciting feature is that Biohort offers a 20-year guarantee. So, you do not have to worry about the waste of money or resources if anything goes wrong sooner than expected.
A model of Biohort comes with a rounded skylight and a semi-automatic door that has a gas-assisted spring damper with a three-way locking mechanism. This garden office and shed combined style is completely maintenance-free and is easy to assemble.