Due to the rise of people who have to work from home, people try to create cost-effective yet productive home offices. And making a backyard office shed is like hitting two birds with one stone.
Hence, backyard office spaces had become the new craze for outdoor structures.
One of the most challenging aspects of a backyard office cube is designing. How can you make a small space stylish and functional at the same time?
What designs can you do make both spark creativity and productivity? Take your pick and enjoy this selection of ultimate backyard office cubes.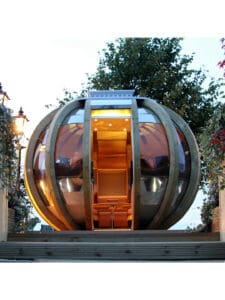 1. Wooden "Eco" Garden Room
One of the best and most popular designs for a backyard office cube is going "Eco." Within the organic exterior comes a light-colored interior installed with modern furnishings. Add some green colors on the side to make the vibe even more eco-friendly. This design was made by the Westbury Garden Rooms.  
(source)
2. Modern Futuristic Backyard Office
Modern-themed designs are harder to make when the space is limited. But when done right, futuristic buildings would stand out from the rest of other structures. One such example is this design by OfficePod, using metal colors with a white interior for a clean finish.
(source)
3. Natura
Want something cozy and fancy at the same time? The Natura shed design from Auroom Wellness might be the one for you. It uses a deep brown Nordic spruce wood exterior to give the whole structure a durable look. On the interior comes a heat-treated aspen wood, making ane cozy "hygge" feel. (source)
4. Adobe Annex Office
For those who want to integrate their offices into the environment, using adobe wood is effective. The vibrant brown exterior can match with almost any greenery. Its metal framework makes it look sleek without removing the nature-themed look. As for the interior, you can add drywall for easy decoration and hide any insulation material. 
(source)
5. Lush Green Backyard Office
Designed by Scott lewis Landscape Architects, this backyard office design uses the landscape to effectively integrate the structure. The stone pavement compliments the space with neutral colors, making the greenery more vibrant and homey. The plants need some regular maintenance, but it can help a lot in insulating the small place. 
(source)
6. Classic Home Office Shed
If you want a proven and tested design that can last for decades, why not try a classic one? These classic style designs can be integrated into any garden and don't need fancy materials to last long. What makes this an appealing design is that you can easily repurpose the space when you don't need a backyard office anymore. 
(source)
7. Two Story Office Shed
A two-story building has a lot of benefits. It allows you to make a storage room on the first floor and a comfortable office in the attic. Landscaping around the area becomes more inspiring due to the "worn out" exterior look of the building. Although this build might require a permit, the utility and aesthetic are worth it. 
(source)
8. 1930's-Themed Backyard Office
Are you aiming for a 1930's look with a modern minimalistic twist? You can give this design a spin. Its interior is big enough for a modern-minimalistic design. However, the exterior is made with red-cedar shingles, a good insulator but a pain in the neck to install.
(source)
9. Monastically Inspired Shed
Designed by Autonomous, the Monastically-Inspired workspace office gives an affordable and stylishly contemporary building. It is an easy and minimalist setup for people who only need the bare basics of a home office. Another reason why it is quite popular is the fact that you can remove it easily when it's not needed anymore. 
(source)
10. CUBE Garden Office
Literally named the "CUBE," this backyard office design uses a minimalist approach for interior and exterior designs. The design makes it easier to add expansion and utilities. You can add more decor, landscaping, and utilities later on. 
(source)
11. The Edifice Cabin
The Edifice focuses on accessibility and customizability of the structure. Made with cedar, you can go minimalistic or create your own theme and go crazy with the decoration. Off-grid living is possible for this design, as it uses angular roofing perfect for solar panel installations. 
(source)
12. Home Office Pod
If you hate boxy designs, then the "Home Office Pod" is for you. Designed by Hello Wood, the geometric shape of the structure makes it unique and easy to decorate. Insulation is not its strongest part, but still possible. Once it's insulated and properly decorated, you have a proper year-long office solution. 
(source)
13. "Log Cabin" Office
The ultimate pun for a "log cabin," this design by Piet Hein Eek is quite attractive and "hygge." It has a stylish and modern feel but cozy and nature-oriented at the same time. Whether you aim to work for hours or just relax and rest, this office design fits the bill. 
(source)
14. The Archipod
The Archipod is a design that proves you can make a small structure that doesn't look like Minecraft. Its interesting shape makes it perfect for adventurous decor builders and landscaping artists who happen to need a functional office. You don't have to worry about the lighting because the glass dome let enough natural light for office use. 
(source)
15. Tiny Pop-Up Hotel
Designed by Miller Kendrick Architects, the Tiny Pop-up Hotel takes "boxy" designs out of the box with its composite structure.  It doesn't have a shape in a "traditional" sense, but it is still a sound structure and can be built with plywood and sheathing panels. You'd love to make this if you want to test your carpentry and woodworking skills. 
(source)