Many homeowners are looking for options to create a garden office and see this as an opportunity to improve their properties.
In particular, backyard and garden structures are getting more love and attention lately. Many people are thinking out of the box, turning their sheds into small offices and leisure rooms.
Garden improvements and renovations are the new hot trend in the world of home improvement, and people seem to be getting more creative in what they add to their gardens.
Some people have even added a spa or hot tub to make the small space more relaxing. Who wouldn't want a place of relaxation and entertainment, right in their backyard? 
Before buying another wooden shed and a hot tub, there are things that you must consider in building this structure.
Featured in this article are the things you need to consider before building your garden office hot tub structure. You can also check the building designs and ideas compiled to inspire you with this project.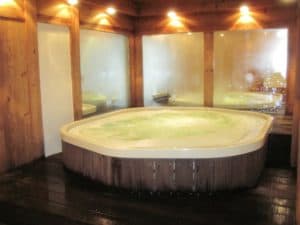 8 Things To Consider Before Getting A Hot Tub Garden Room
1. Garden Landscape
It's almost an automatic effect: you might have to destroy a part of your garden landscape to fit another structure.
This step can potentially affect the looks and functionality of your whole garden. Not to mention that digging can become destructive to public utilities. Scout your garden landscape first and decide on optimal positioning for your tub. Don't forget to call the authorities before you start digging. 
2. Water And Plumbing Utilities
Hot tubs are great and relaxing. But if you want to use these structures daily, you need to install water and plumbing utilities.
It will also depend if you wish to have an in-ground spa or an above-the-ground portable spa (a.k.a. tub). Heating and draining water will need additional utilities, or else, you'd always have problems adding, heating, and draining water. 
3. Price And Space
The price of additional structures like tubs and spas depends on the size and material.
If you went for the cheapest options, expect at least to spend $400 for an above-the-ground tub. Expensive spas or tubs can cost you $35,000 max but can take at least five or more people (with bars, sound systems, and insulation). Additionally, these expenses are meaningless if you don't have enough space to house all additional structures. 
4. Wall And Sundeck Placements
Most homeowners forget to include the wall and sundeck placements in their initial plans.
Of course, these can be omitted and use other structures for concealing the additional facilities in your garden. If you're thinking of adding these structures, add their placements in the initial design.
Nothing is more frustrating than changing the design at the last minute because you forgot about these two essential fixtures. 
5. Indoor Or Outdoor? 
Another factor to consider is whether you're going to install your tub inside or outside.
If you're going to install your tub outside, getting wooden walls and sundeck is necessary. On inside installations, you might want to treat the wood, add adjustments to the structure, and create an adequate ventilation system.
If privacy concern is what matters more to you, choose the indoor installation. But for a cost-effective approach, outdoor installation is the way to go. 
6. Building Permit
Just like Garden Sheds, average-sized above-ground hot tubs don't need any building permit.
But if you're planning to add an in-ground tub, you might want to be safe and get a building permit. Besides, hot tubs need plumbing and electrical building permit. Hence, it's better to obtain a permit before starting to build. 
7. Installation And Other Tedious Stuff
Once you get a building permit, the sourcing of materials and installation is the next step. Would you be able to handle the installation and other tedious stuff?
Depending on your area, this step can take up to days or weeks. Clear up your schedule and make sure that you're personally in the area once installation starts. 
8. Designs And Overall Aesthetics
And last but not least, will your design work with the overall aesthetic of the house?
This should be one of the first things on your to-do-list. Getting a professional interior designer is recommended to avoid any design regret later on. Since you're going to use the structure for a long time, you might want to make the best and the most practical decisions regarding your designs. 
Check out this youtube channel that answers many questions about hot tubs
11 Garden Office And Hot Tub Ideas That Are Worth It
If the space in your backyard cannot accommodate both the office and the hot tub, why not have them both in the same area? This can be done by using two wooden standard-sized sheds and joining them together. 
One of the benefits of this design is that it doesn't require a wide area for installation. You can also share the electricity between both structures. And you don't have to worry about additional work in landscaping the area around, as the two rooms share the surroundings. 
For homeowners who still want to have a spacious office, they can opt for an outdoor summer tub instead. This design works by utilizing the area around the office shed without disrupting the landscape and the main focus. 
It's a better option for people who only want to use the tub occasionally and still want the office to be the main structure. Don't forget to add tall fencing around your area. 
The Luxe Wellness Villa is found in Archterhoek and features an indoor hot tub. A makeshift office or entertainment lounge is placed beside the indoor tub.
Housing both structures is an L-shaped exposed space that lets natural lights in during the day. It's a simple and easy design to follow if you want to appreciate the surroundings' natural beauty. 
The Garden Sauna spa rooms are another clever way to utilize a small space. Instead of using an enclosed wood, the majority of the walls are made with glass.
You can divide the space for a makeshift office and reserve the remaining space for a tiny gym. Meanwhile, you can install the hot tub outside, using the extra space between the wall and the office room. 
Space is often a problem when it comes to building extra structures. And since most sheds are only designed for storing items, these small, sturdy boxes work well with flat surfaces. But what if you don't have any empty flat surfaces on your property? 
Using wooden decks can fix this problem. And not only that, but makeshift decks can also support an outdoor hot tub installation. By utilizing the space properly, a garden shed can be turned into a makeshift decked garden office. 
Sometimes, being in a quiet space is the kindest reward you can give yourself. After a busy day at work, you just want to drink a cup of a well-made coffee and read a book.
This Backyard Reading Retreat design gives you all of these vibes. Besides, you can enjoy a shallow deep at a nearby hot tub. It's a relaxing and rewarding backyard retreat.  
When you need to tackle your tasks at full speed, it's natural that you avoid all the distractions. You can now easily run past any distraction with a minimalistic shed. 
Designed by Studio Shed, the main structure uses clean and distraction-free aesthetics to focus on your tasks. And once all the tasks are successfully completed, you can enjoy the backyard comfort of a warm and tasty hot tub. 
A wooden shed always has this vibe of nature and comfort. Hence, there is a surge of popularity in transforming sheds into other things for other purposes. 
This design by The Garden Office UK incorporates natural lighting to get the comforting feeling of being one with nature, even while you're working.
And since hot tubs are the trendiest addition to garden offices, why not install an in-ground one? Don't forget to surround the area with trees for better ventilation and ambiance. 
Nothing's stopping you if you want to have a small tub, a decently-sized bar, and a comfortable office within the limited space of your backyard.
To get your desired result, you need to be smart in fitting in all of these rooms. Luckily for you, the Crown Pavilions made a design that can help you achieve this seemingly impossible task.
Designed by Bridge Garden Rooms, the Hot Tub Timber Garden Room Shelter is best known for its small footprint and smart space usage via sectioning. 
A glass door is installed between the wall divider, so you don't have to turn around to access the spa room. It's quite similar to the other entries on the list, but this one has a smaller office to accommodate a bigger hot tub size. 
If you don't fancy a second-story building for your office, you might want to check this design. This is a good office for those who want to have a lounge area, a bar, an office, and a small kitchen fitted in an adjoined two-shed structure.
Outside the area is a hot tub room, which spans up to a standard-sized shed.