With the number of people who work from home constantly on the rise across the world, people who own homes are now the luckiest because they may have enough space outdoors where they can easily convert to a garden office, guest room, studios, or a workshop. 
The solitude provided by this space allows one to work from home and evade the hassles of commuting to regular offices. 
In the course of this article, we shall be looking at 10 of the best garden office and workshop ideas you can use in building that extra workspace you've always wanted outside your house. Let's delve in!
Take a look at these garden office suppliers for some inspiration!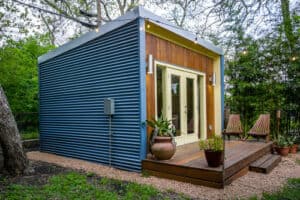 10 Of The Best Garden Office And Workshop Ideas
There are several workspaces, garden offices, and workshop ideas out there. Over time, reputable architects have come up with some of the best designs we have ever seen for garden offices and workshops. They include:
The Proline Garden Office
This type of garden office is a new, exciting, and unique one.
The Proline garden office has highly durable, low maintenance, and insulating properties in its structure. You can select from a host of modular sizes that are available for this building (1.96 yards to 6.12 yards wide, and about 3.7 yards high).
The sizes are made such that they can fit into any size of the garden, and you add windows and doors as you like to achieve your preferred building style. 
Some other ideas you can take from this type of garden office are the building materials.
The paint finishing used is a vertical groove and tongue cladding effect that is made from Tricoya which is a remarkable wood used in the modern era.
It can last for about 50 years and can adjust and cope with all types of weather conditions. Also, it has a high resistivity to fungi attack and it doesn't rot or warp. 
The Proline garden office is painted with an eco-friendly water-based finish which has a high quality, and RAL color standard, that way you can easily personalize your garden office to conform to the theme of your garden. 
The Linea Duo (5.46 x 3.2 yards)
If you have always wanted a garden office that has enough space and is equally stylish, then the Linea Duo is a perfect garden office for you to observe and draw ideas you can use in the design of your own.
The Linea Duo garden office comes with a 5.46 x 3.2 yards area space, and a look that can be described as Scandinavian.
The main room of the garden office is 3.2 x 3.8 yards and the internal storeroom that measures around 1.6 x 3.2 yards. This building makes use of a double-glazed window which is efficient during the winter season as it keeps the wind in check.
The side elevation of the main room allows light through the window, making the office even brighter. It's simply a perfect option to take ideas from. 
The Mini Garden Office
If you are considering whether or not to build a garden office in your house but you do not have enough space, then a mini garden office is what you should consider taking ideas from.
Mini garden offices are usually built as an office for just a single person and this design is a popular one. It measures about 1.96 x 2.62 yards but it can also be customized to a smaller or slightly bigger size up to 0.656 yards. This type of garden office is large enough to contain a chair, a desk, a bookshelf, and with little space to spare.
If what you seek is to add value to your home without displacing too many of your favorite items, then this is the perfect type for you to draw ideas from. 
The Salcombe
The Salcombe is a versatile type of garden room that forms a combination with a shed.
This type of garden room is usually spacious and can be used as an office, workshop, or even a studio, and sometimes, to accommodate a few guests. The contemporary Salcombe garden room is built conveniently with a storage area for equipment like garden accessories, and bikes, or any other form of favorite collection.
The size ranges from 3.2 x 6 yards. It is also customizable.
The Linea (3.2 x 2.7 yards)
Looking to build an extremely stylish garden office?
Then the Linea (3.2 x 2.7 yards) is a perfect idea to use. It is usually fully insulated to suit both winter and warm weather. This type also has elements of a Scandinavian design.
It sports tough and durable latch wood cladding which stands firm against several weather conditions. It makes use of double-glazed doors and a heavy-duty rubber lining ensuring that all its elements are kept in check. This type of garden office or workshop is usually about 8.12 feet high.  
The Bussum Garden Studio
If you have ever fantasized about having a garden studio with an architectural outlook, then the Bussum garden studio office is one you should consider checking out.
This garden studio is angular in design and can also be used as an office, or extra storage unit. The interior is composed mainly of plywood pieces and the exterior is composed of about 2000 hand-sanded and red-painted cedar shingles. 
The Hackney
This is an example of a low-budget garden office that will contain just one person.
Made by using oak-framed doors, this garden office can also accommodate a medium-sized bookshelf that can be placed between the structural columns of the building.
Reaching above its low-budget tag, this building has spaces between the roof beams that are covered with glass to make way for light from the sky.
The Garden Drawing Studio
This garden office or workshop concept was designed by Christian Tonko.
Its design is based solely on the camera lucida. It has glazed walls at either end of the building which can turn the interior into a bright light chamber. If you are looking to build a garden office with architectural significance, then you can consider taking ideas from this. 
The Sunday Stuga
This garden room or workshop idea is built in such a way that it is surrounded by brick walls on three sides.
It also has a kind of zigzag roofline that fits into a big window which is at the front. Consisting of a wooden floor, this garden room can be used both as an office and entertainment space.
The Garden Studio
This studio has a matching corrugated cladding and a slanted roof pattern.
This type of garden studio is best built close to a pool (if you have one in your house). It has enough space for an artist to perform his/her work, and can also be used as a normal office workspace.
Measuring about 3.2 x 4.9 yards in total space, you can incorporate it to suit your specific garden room or workshop preference and taste.